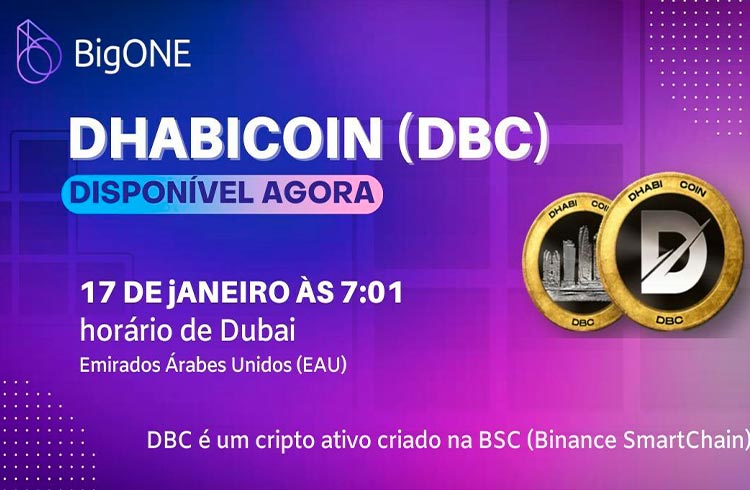 BigOne will list DBC on January 17 at 7:01 am Dubai – UAE time.
DhabiCoin was created to simplify paths, move the market, bring technology to the sector in an accessible way and with the premise of reaching different countries around the world. The priorities have always been innovation, quality and meeting the needs of commerce with transactions without bureaucracy and waste of time. Blockchain technology shows that it is possible to increase the efficiency of financial transactions with security and high performance while the market demands more streamlined and profitable processes. In just ten months of the ICO phase, DBC reached more than 30 thousand users present in about 60 countries, distributed in the four corners of the planet.
DhabiCoin's expansion plan is consolidated, well evaluated by experts in the cryptocurrency and blockchain industry. DBC has passed the audit by TechRate, which is an analytical and engineering agency focused on blockchain technology solutions and audits. The project attracted the attention of the specialized market and expanded its network of countries with each round of pre-sales. In the final stretch of the ICO, the management of DhabiCoin was even bolder and signed a pre-listing contract with the Dutch giant BigONE, which has in its portfolio almost two hundred cryptocurrencies and a daily volume of around 650 million dollars.
Project Details
* Project name: DhabiCoin
* Token Name: DBC
* Project Introduction: Dhabicoin is a set of digital assets to unify diverse networks into a single digital ecosystem that will allow users to communicate, learn, make payments and perform a variety of other activities. Its aim is to boost the UAE economy and revolutionize global markets.
*Official website: https://dhabicoin.ae/
* Total supply: 3,000,000,000 DBC
* Contract address: 0x220e6A613F00c79025d5611B73639E045B186fF8
* Developer block https://bscscan.com/address/0x220e6a613f00c79025d5611b73639e045b186ff8#code
Disclaimer: This article is for informational purposes only and does not constitute investment advice or an offer to invest. The CriptoFácil is not responsible for any content, products or services mentioned in this article.
Also Read: JUN Meta Introduces The World's First Global P2E Social Casino
Also read: This cryptocurrency could jump up to 5,000% in the next 12 months
Also Read: Bitget's Crypto Investment Platform With Bitkeep Opens Up Profit Possibilities