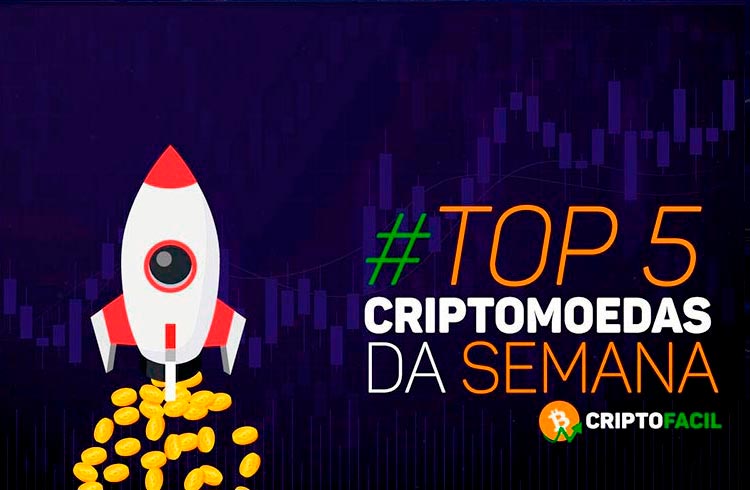 The beginning of 2022, unlike its predecessor, saw the market enter a strong bearish trend. The price of Bitcoin (BTC) , for example, fell 12.2% in the week and operates at just under US$ 41,000. In the same vein, Ether (ETH) fell 18% and saw its price drop to $3,100
Of the 100 largest cryptocurrencies on the market, only six showed positive valuations. Of these, most did not even reach 10% appreciation. So, check now who started the year on the positive.
Disclaimer: the list takes into account the prices and percentages registered when the text was produced. In addition, the cryptocurrencies that are in the Top 100 of the CoinMarketCap list will be considered. Without further ado, here is the list!
UNUS SED LEO (LEO)
LEO is a utility token that serves to access the Bitfinex exchange ecosystem. Its price had a strong fall, but it recovered and closed the week with a modest increase of 0.42% . Each LEO valued R$21.61 , while its total market value reached R$20.6 billion , ranking 42nd .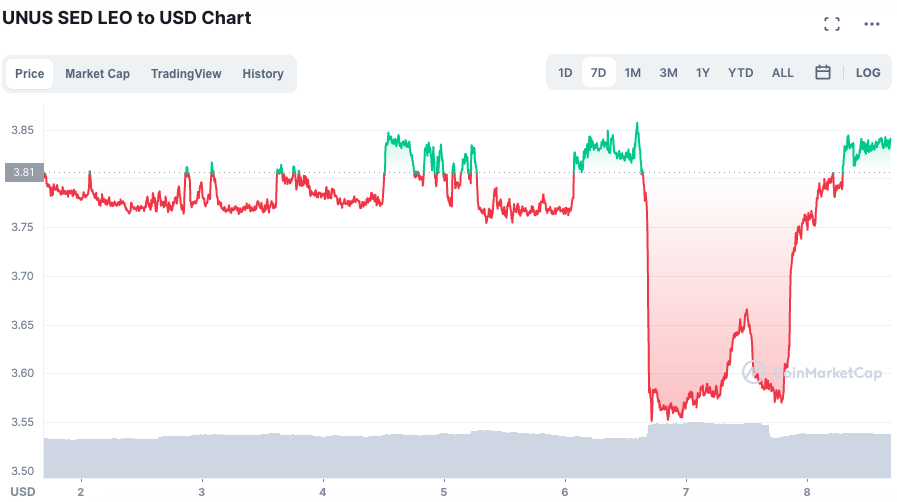 DASH
Once forgotten by the market, DASH passed through the Red Sea unscathed, though it too has fallen. Its price and closed the week at R$ 808.11 – an increase of 2.02% in the week. As a result, the market value of the cryptocurrency rose to R$ 8.5 billion and occupies 74th place .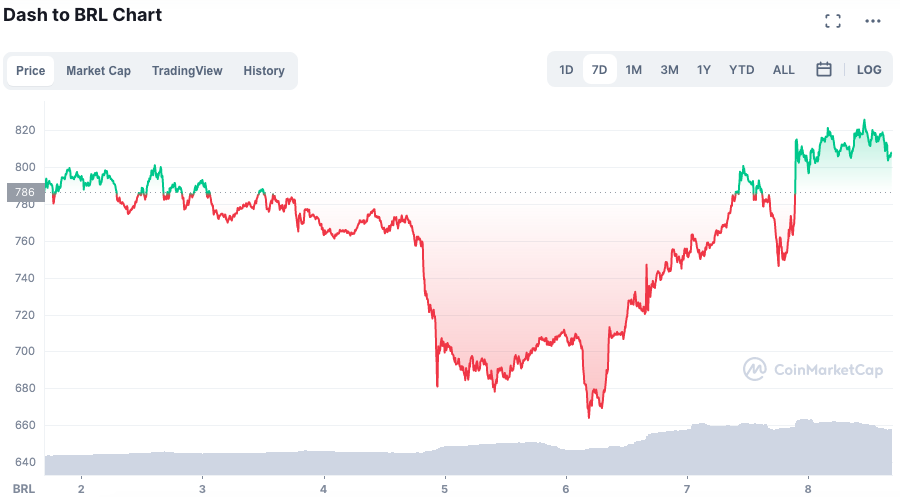 Harmony (ONE)
ONE opens the Top 3 of the week after reaching 5.34% high , but its price ended the period at a modest R$ 1.66 . The market value of the chain, in turn, closed in 47th position , having reached the mark of R$ 19.5 billion .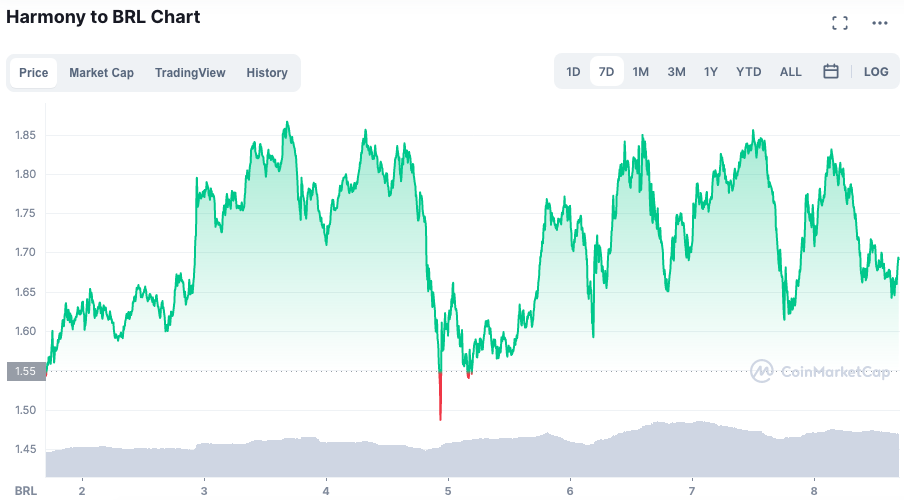 Internet Computer (ICP)
In second place was the ICP token, whose valuation reached 25.36% , taking the price of the token to R$ 190.68 . The market value of the chain occupies the 28th position and is currently worth R$ 38.5 billion .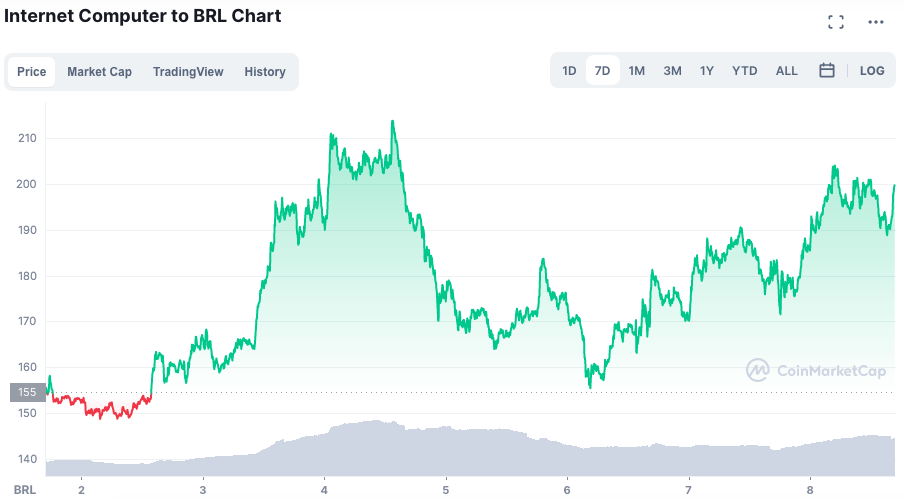 Chainlink (LINK)
Finally, LINK closes the weekly list with the highest appreciation , reaching 25.93% in the week. Due to the sharp rise, the price of the cryptocurrency is R$158.23 , while its market value reached R$73.9 billion . LINK ranks 16th overall in CoinMarketCap.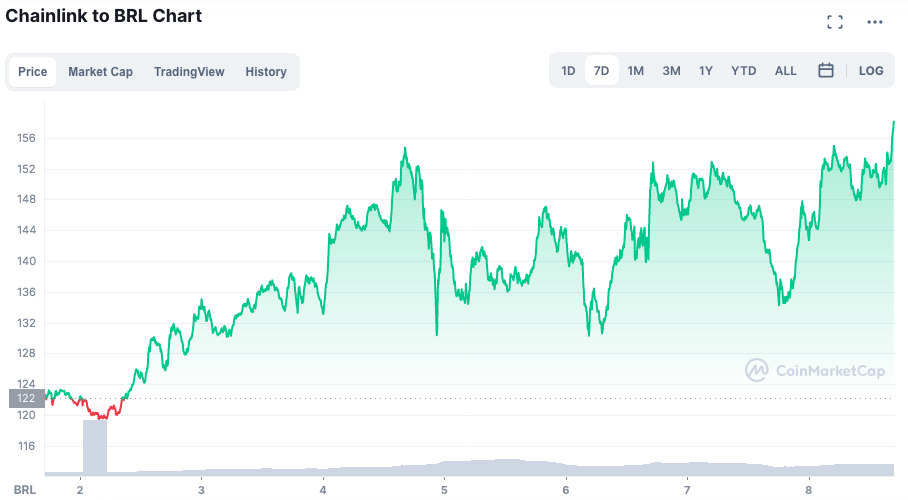 Read also: This will be the year of DeFi and oracle tokens, says analyst
Also read: After pressure from the founder, Mozilla stops receiving cryptocurrency donations
Also read: Bitcoin drops 0.56%; Ethereum drops 0.5%. Cryptocurrencies remain low and ETF becomes the worst investment fund