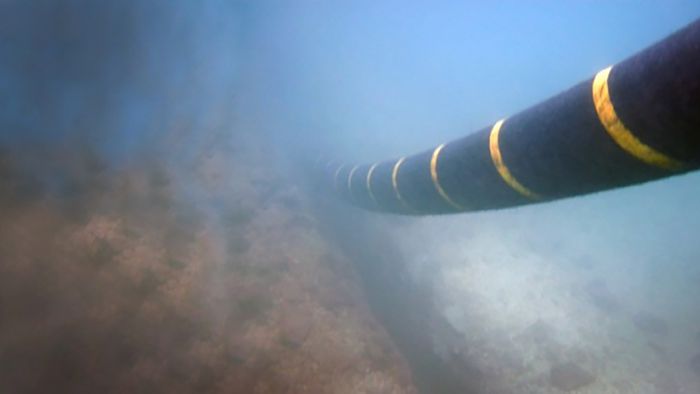 If you managed to open this article, it is quite likely that the process was aided by the use of so-called submarine cables. A giant network of these components has been spread across the world for a long time, allowing an interconnection between all the continents of the planet, with the exception of Antarctica. All the complexity of this structure generates a series of questions and curiosities, which A Market Analysis answers in some topics.
HAS COUPON | Galaxy Watch 4 gets BIG DISCOUNT at Americanas
How to track a lost or stolen cell phone
What are submarine cables for?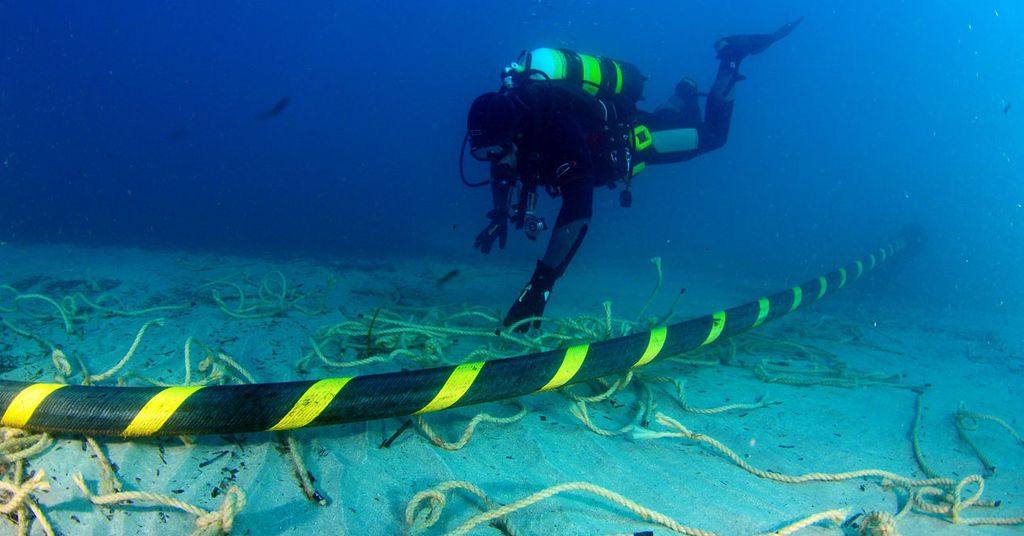 The main function of submarine cables is to transport data at very high speed. It is estimated that the most current are capable of transmitting up to 250 terabits of information, with speeds that have already reached up to 26.2 terabits per second during tests carried out in 2019.
Submarine cables are used to enable communication services as a whole, and not just the internet — the first tests with the technology date back to the 19th century, long before the creation of connectivity services as they are known today.
–
Download our app for iOS and Android and follow the main technology news in real time on your smartphone.
–
However, it is natural that the main services provided by cables are geared towards the internet, as it is possible to carry data related to photos, text messages, audios, and basically everything that is necessary for a more dynamic and functional web.
It is not difficult to imagine how the internet as a whole needs interconnection between countries on different continents — several servers are located at a very large distance from Brazil, for example. Therefore, without the presence of submarine cables, the internet would not exist in the way it is conceived nowadays.
Where are they located, and what are the main centers?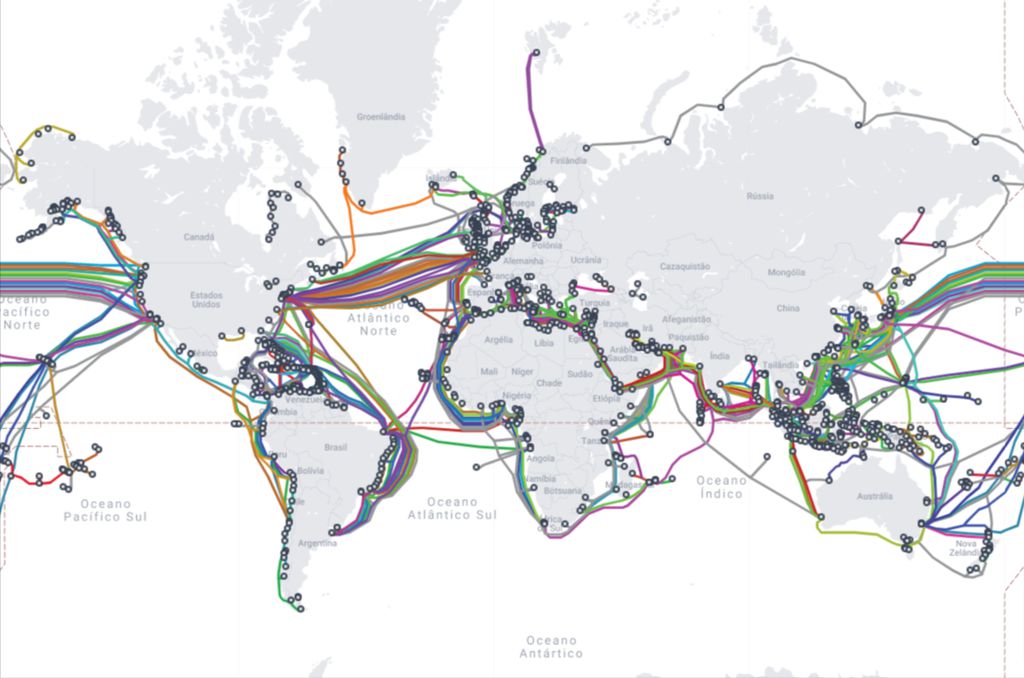 The Submarine Cable Map portal shows a complete interactive map of all the submarine cables present on the planet, and a quick glance is enough to understand that they are basically everywhere.
The locations where the most important industrial and commercial centers are located have a higher cable density — just look at the number of connections that exist between the United States and Europe, for example. There are also large concentrations at the bottom of the Mediterranean Sea, Red Sea and Arabian Sea to connect areas of the Middle East. In Asia, the areas that cover territories between Japan and Singapore are also full of cables, passing through places like Taiwan and Hong Kong, known for being technological centers.
In Brazil, there are several cities that appear as structural poles of the submarine cable system — just one Embratel cable connects the Southeast and Northeast regions in 14 municipalities on the Brazilian coast, for example. However, it is possible to highlight four centers that have a higher density of connections: Santos and Praia Grande (both quite a few kilometers apart on the coast of São Paulo), in addition to Rio de Janeiro and Fortaleza.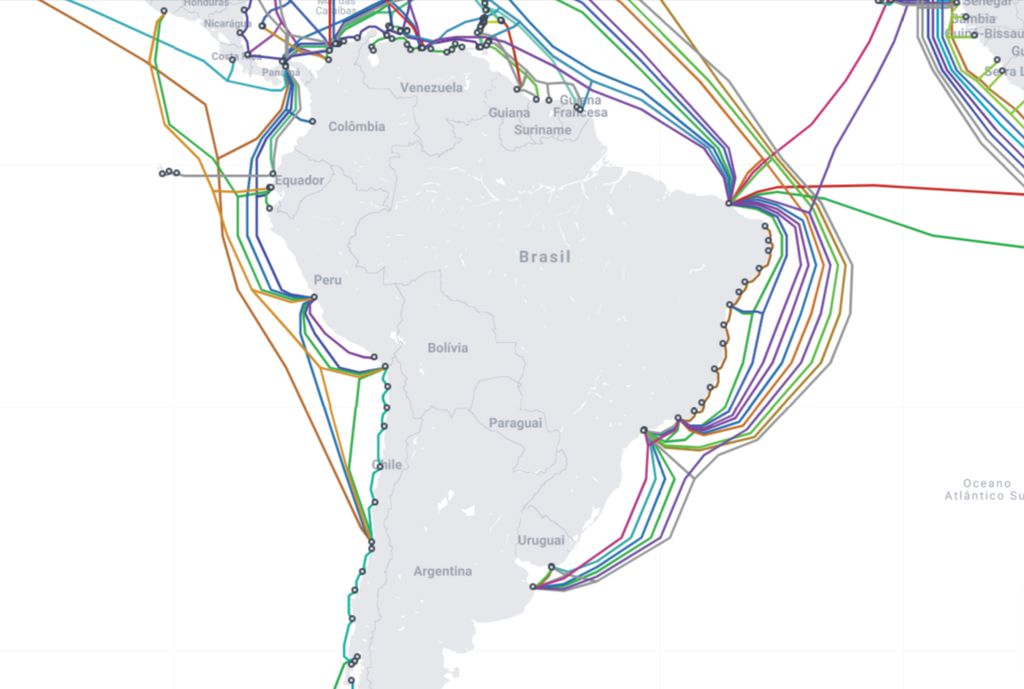 Several reasons explain the choice of these centers, but in the specific case of the capital of Ceará, the favorable geographic position makes the city appear as an excellent connection with North America, Africa and Europe.
Who is responsible for the cables?
In general, the production and implementation of submarine cables is the responsibility of telecommunications operators. However, as these services are quite expensive, consortia are usually made between different companies.
However, there are also "private" cables, which are the result of investments made by technology giants such as Google , Facebook and Microsoft — having more and more capacity for high-speed data transmission is of great interest to these companies. Gigante das Buscas alone already had more than 100,000 kilometers of underwater cables, according to a survey carried out in 2018, but in that period new stretches have already been opened in several locations.
How deep are the cables?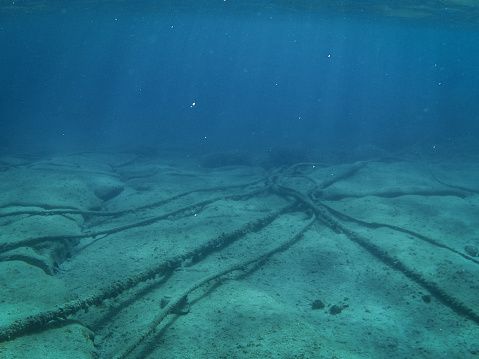 Because submarine cables are primarily supported on the ocean floor, the depth at which they lie can vary widely. For this, it is necessary that they bring specific protections – cables that are more than 20,000 feet deep (about six kilometers) receive reinforcement against great water pressure, while the sections that remain on shallower surfaces have materials resistant to attacks from animals that live in the sea, for example.
What are the dimensions of submarine cables?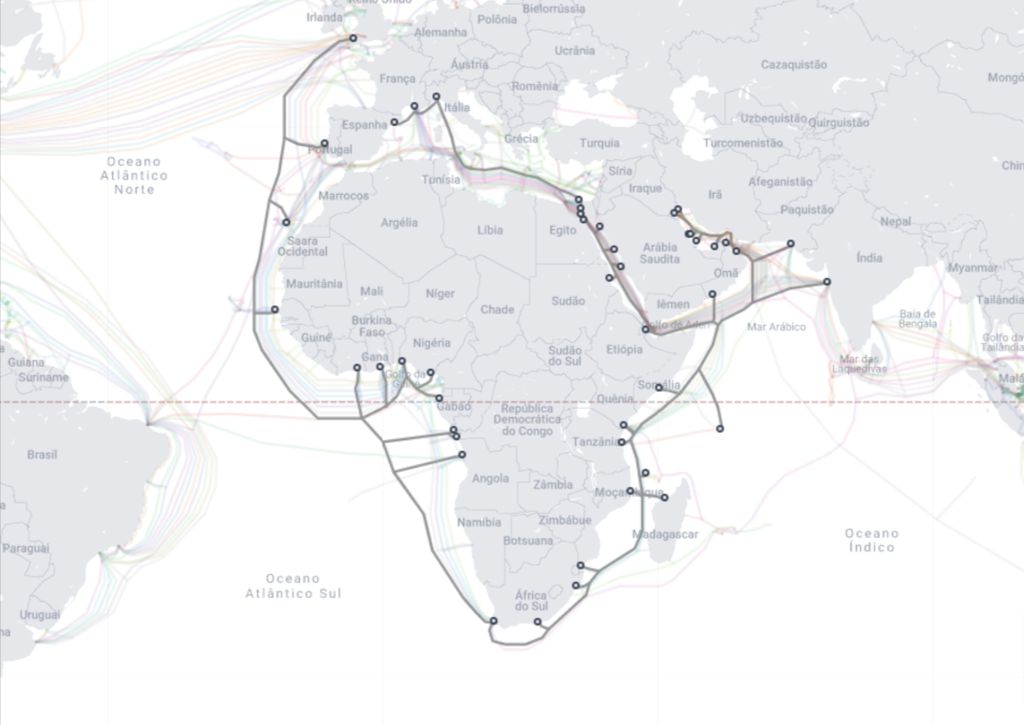 Currently, the longest existing submarine cable is 2Africa, managed by Meta (Facebook) and which extends over 45 thousand kilometers. Its trajectory leaves the United Kingdom, goes around the entire African continent — connecting several countries along the way — and arrives in the city of Barcelona, located on the coast of Spain. On the other hand, the shortest cable is CeltixConnect, which lies between Ireland and the UK, with just 131 kilometers long.
Naturally, the length of cables can vary greatly depending on which locations they are connected to, and the paths used on the seabed. Reports indicate that there are a total of 436 cables spread across the ocean, which add up to more than 1.3 million kilometers—thus, with an average of approximately 3,000 kilometers per cable.
Even though they are so long, the cables are relatively thin. In general, all the internal filaments are placed in a structure that can range between 15 and 210 millimeters — for comparison, they can be as thin as a garden hose, for example. This is possible because the components inside the cables can be as thin as a strand of hair.
What are cables made of?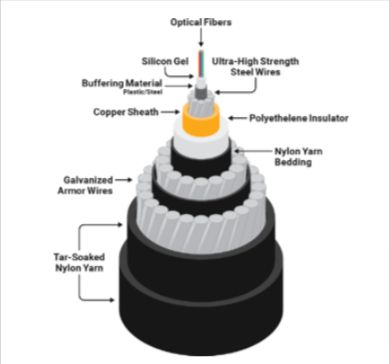 Cable composition is another factor that can vary greatly depending on many aspects, such as the age of the components, their capabilities and the paths they take. In general, the most used materials include a fiber optic center section, surrounded by silicone, high strength steel wire, copper, polyethylene and nylon strings. Protection against water ingress is made with aluminum and/or Vaseline barriers.
Many of these components are also seen in telephone cables used everywhere, so it is possible to say that they have several similarities.
What happens if a cable breaks?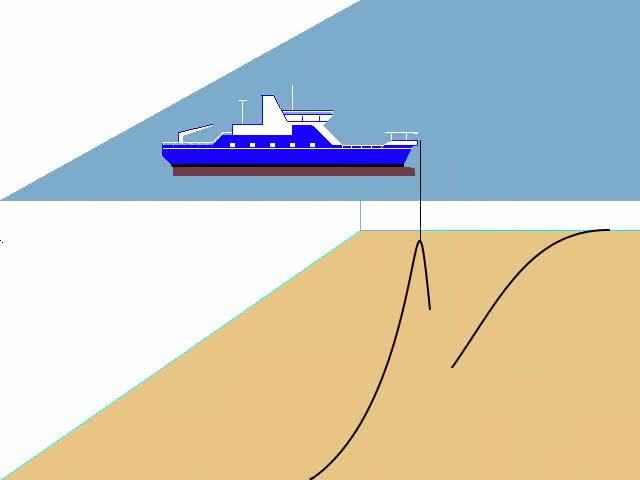 Repairs to undersea cables are relatively common, as cases can run into the hundreds each year. In general, the direct effects of a disruption are usually limited to the loss of Internet connection speed in specific areas, but without stopping services completely.
However, more serious cases have already been registered a few times. In 2017, for example, the African nation of Mauritania was completely without internet for more than 48 hours because of a disruption that happened near its capital, Noukachott. Other neighboring countries also had records of slow connections, but managed to find alternatives through other connection cables, or even satellite connectivity.
More recently, the Vietnam region has been suffering from disruptions and other structural problems since 2017 until today, as the Asia America Gateway (AAG) cable broke for the third time in just last year — to complicate matters, another Asia cable Africa Europe (AAE-1) also had similar problems at the same time. Even though the traffic was much heavier than normal, the country was not completely without internet due to the high density of nearby connections.
Repairing broken cables does not necessarily have to take place at the bottom of the sea, which would cost much more than what is actually done. In most situations, a ship with specialized tools and technicians arrives close to the problem location, and a kind of "claw" pulls the cable to the surface, where it is reconnected and launched back to the ocean, with full monitoring.
But what about sharks?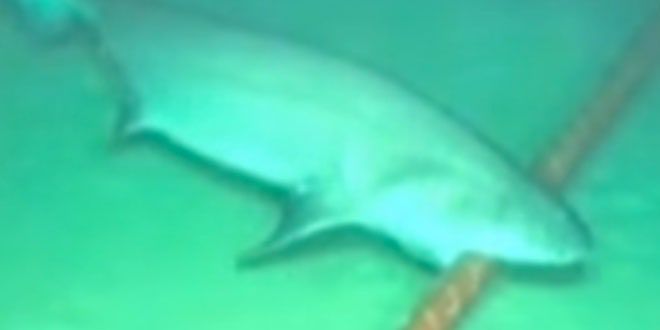 The attack by sharks on submarine cables that are in shallower environments has been a topic studied by specialists since the 1980s, when the cables began to be coated with materials that offer physical protection against major shocks.
Why sharks are attracted to cables is not definitively known by scientists. It is possible that they are able to identify electromagnetic waves through pores in their bodies, but the phenomenon can also be related to the transmission of electrical currents, which make the cables a fish-like target, in the perception of animals – another aspect points out that the The shape of the handles is simply a curiosity for the sharks, who bite to see what they're all about.
Despite the curious fact, shark attacks do not usually generate great damage to operators or to the population — between 2007 and 2014, no damage caused by sharks was recorded on the entire planet. Often breaks happen through human error, like boat anchors getting tangled up in cables and breaking them.
Subsea cables usually have a useful life of 25 years, but there are wide variations depending on different conditions: some cables can last much longer, while others leave the scene early simply because they no longer meet the needs of operators, or become outdated in general.
Why not just use satellites?
Even though satellites represent a very efficient way of allowing data transmission in more isolated locations, they are used in a much smaller proportion than undersea cables. Some basic reasons explain the situation.
First, the cable system is much cheaper: it is not difficult to imagine that launching a satellite into Earth orbit is a more complicated and expensive process, in addition to the fact that these objects require a much more complex operation if repairs are needed. .
Submarine cables are also highly energy efficient, as they are capable of transmitting a large amount of information over very long distances, with practically no physical resistance compared to satellites.
The quality of data transmission is also an important factor. Just compare with home connections: Wi-Fi may even be a more practical solution in a wide variety of situations, but it will always have lower speeds in direct comparison with cables, and signal instabilities over the air are much more present.
Therefore, submarine cables remain an essential component to enable connection across the world, and the trend is that they will gain more and more importance over the next few years.
Read the article on A Market Analysis .
Trending at A Market Analysis:
The popular car is dead in Brazil
Ransomware uses popular remote management program to infect machines
Ômicron: know how to differentiate symptoms in vaccinated and non-vaccinated people
Galaxy S21, S21 Ultra and M62: Samsung mobile phones on offer
4 powerful cell phones on offer at Magalu