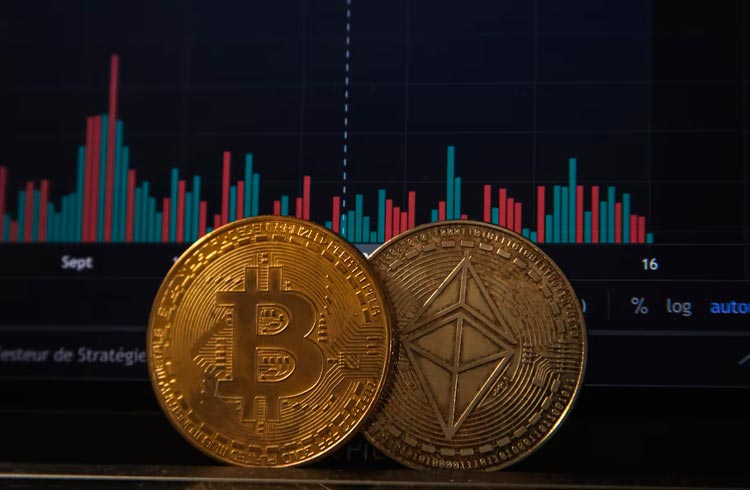 Bitcoin price opened on Thursday (6) at a sharp drop of 8% and, as a result, lost support from US$ 45,000. Currently, the price of the largest cryptocurrency on the market is 42,904, according to data from CoinMarketCap.
The fall of the BTC triggered a massive devaluation in the market. Ether (ETH), for example, registered a drop of 11.75%, which took its price to US$ 3,366. Among the Top 10, Polkadot (DOT) leads losses with a drop of 13.88% and price at US$ 25.89.
Within the Top 100, the biggest losses were registered by Internet Computer (ICP) and Axie Infinity (AXS), which lost 18.98% and 17.91%, respectively. Each ICP is worth $29.17, while the AXS is worth $76.65.
The market value of cryptocurrencies dropped 9% to $2.03 billion. Trading volume, on the other hand, grew 33% and reached US$ 137.6 billion.
With a 9% drop, the total market value of cryptocurrencies lost around US$ 200 billion, which corresponds to R$ 1.1 trillion at the current price. The Crypto Fear & Greed Index remained at its extreme level, but dropped to 15. This is the lowest level recorded since July 21, 2021.
Fed minutes knock markets
The fall of the BTC and the market as a whole came after the release of the minutes of the Federal Reserve (Fed), the central bank of the United States. According to the document, the Fed may have to raise interest rates sooner than expected.
In the same sense, the monetary authority owes its general asset portfolio to contain high inflation. That is, the Fed can start selling assets in the market instead of injecting liquidity.
As the latest Fed report revealed, there are about $8.8 trillion in your balance sheet. The fear is that part of these sales may cause the price of several assets to fall, harming stock markets.
As a result, all risky assets declined after the minutes were released. The S&P 500 ended Wednesday's trading session down 1.94%. The Nasdaq Composite, which includes technology companies, fell 3.34%. In Brazil, the Ibovespa index dropped 2.42% and closed close to 101 thousand points.
Read also: Illuvium network token collapses 98% after liquidity pool attack
Also Read: Dogecoin ready to bully as soon as key resistance is broken
Also read: Bitcoin Analysis: BTC about to break support