Bitcoin (BTC) is the best performing asset class for three consecutive years, outperforming gold and major equity markets, according to data compiled by Compound Capital Advisors CEO Charlie Bilello.
Thus, in 2021, despite the fall in December, Bitcoin registered a return of 66.5%, surpassing the gains generated by the commodity index (41.4%), as well as the 40.5% profits printed by investment funds American real estate.
Therefore, Bitcoin also outperformed the US Large Caps, an index that tracks the performance of the S&P 500, and the Nasdaq 100, an index composed of the top 100 companies traded on the Nasdaq stock exchange.
Thus, the two indices registered returns of 28.7% and 27.4% in 2021, respectively. Bitcoin's stellar performance this year comes after the BTC printed gains of 301% in 2020 and 95% in 2019.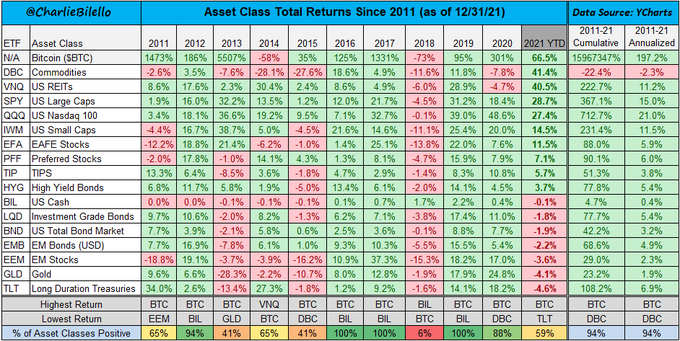 Thus, returns in 2021, however, are negligible compared to other digital assets such as Shiba Inu (SHIB), Polygon (MATIC) and Terra (LUNA).
cryptocurrencies
Thus, Shiba Inu meme currency gained 3,413,999,900% in 2021, Polygon blockchain scaling solution increased 14,091% last year, while Terra's decentralized financial payments network rose 12,954% in the same period.
Therefore, other cryptocurrencies that performed relatively better than Bitcoin include Solana (SOL) and Dogecoin (DOGE). In 2021, Solana and Dogecoin posted gains of 11.146% and 3.602%, respectively.
Charlie Bilello also tracks the performance of the cryptocurrency markets and says the valuation of all digital assets has grown from $10.6 billion at the end of 2013 to $2.36 trillion at the end of 2021.
Therefore, with these results we see an impressive increase of 22,164% in eight years of market
"Total market value of cryptocurrencies at the end of …
2013: $10.6 billion
2014: $5.5 billion
2015: $7.0 billion
2016: $17.5 billion
2017: $590 billion
2018: $128 billion
2019: $190 billion
2020: $768 billion
2021: $2.26 trillion.", he said, already pointing out that the cryptocurrency market is always on the rise even with "fragile" BTC.
Read also: Analyst predicts big rise for Fanton and Terra in January
Also read: 7 cryptocurrencies that have risen more than 75% in 2022
Also read: Billionaire with cryptocurrencies buys mansion in Los Angeles for $133 million